The COVID-19 pandemic and resulting effects on workplaces in BC is an ongoing and evolving situation. With changes to regulations happening daily, it is important for both employers and employees to pay attention to local, provincial, and federal government announcements. These announcements can impact your available options.
These are a few FAQs that may provide some insight into your legal position as an employee in this situation.
Q: Can my employer reduce my salary in BC?
A: Constructive dismissal claims occur when changes are made to the terms of employment by an employer without agreement from the employee.
If your salary has been reduced, you have three options:
If the reduction is significant, you can consider your employment to be terminated and become eligible for full severance from the employer. Determining what "full severance" means requires legal analysis. Please reach out to a lawyer to determine the correct notice period. This becomes even more important when you are older and have been working for a long period of time for the employer.
You can continue working for your employer. However, if you accept the reduction in earnings or being "temporarily laid-off", you may be agreeing to the change in the employment agreement. This may offer your employer legal precedent to permanently alter your terms of employment.
You may consider writing a contractual agreement that accepts your reduction in wages or lay-off for a specified period only. This way you do not alter the terms of your original employment contract while continuing to work. It is crucial that you state in writing that your acceptance is not a precedent for future remuneration reductions or layoff.
To understand your options, speak to an employment lawyer today.
Q: What if I do not go back to my job? I just want to collect my CERB.
A: When you do not go back to work even when your employer calls you, this may be characterized as a resignation. In this situation, you will not be eligible for severance pay. Worse, you will lose out on your CERB benefits as well since it looks a lot like you quit your employment voluntarily.
The new Canada Emergency Response Benefit (CERB) is set in place as a relevant relief for the workforce affected by the COVID pandemic. You stand to receive $2,000 per month for up to 16 weeks if you are eligible for CERB.
CERB applies to employees who are otherwise eligible for sickness benefits and EI but have stopped working because of COVID-19 restrictions. These benefits are accessible to all that have no paid leaves or any other form of income support, including:
Worker laid off because of COVID-19
Workers requested to not come into work because of a government order
Sick or quarantined workers
Workers taking care of somebody who is sick with Coronavirus
Workers that must care for dependents or children whose care facilities or schools are closed because of the pandemic
The only notable exception to receiving CERB is workers who voluntarily quit their employment. The government is clear that these employees shall be ineligible for CERB because they do not want to be subsidizing workforce that could otherwise be contributing.
Q: I do not feel safe at my workplace. What can I do?
Workers in B.C. have the right to refuse work if they believe it presents an undue hazard. In those circumstances, employers need to consider the refusal on a case-by-case basis, depending on the situation. For more information, see Occupational Health and Safety Guideline G3.12:
https://www.worksafebc.com/en/law-policy/occupational-health-safety/searchable-ohs-regulation/ohs-guidelines/guidelines-part-03#SectionNumber:G3.12
Purpose of guideline
This guideline explains the test for determining whether a worker has a "reasonable cause to believe" that an undue hazard exists or would be created, and what constitutes an "undue hazard." It also provides guidance on the process for the investigation into a work refusal, where completion of the procedure under section 3.12(3) of the Regulation has not resolved the work stoppage.
The right to refuse unsafe work
The refusal of unsafe work is both a fundamental right and a responsibility held by workers. A worker's refusal of unsafe work is an integral element in ensuring work is carried out safely. Workers who reasonably believe work is unsafe must refuse to perform that work and are entitled to have their employer investigate and, where necessary, correct the hazard.
Elements of the right to refuse
Section 3.12(1) states that "A person must not carry out or cause to be carried out any work process or operate or cause to be operated any tool, appliance or equipment if that person has reasonable cause to believe that to do so would create an undue hazard to the health and safety of any person." In many situations, the "reasonable cause" and "undue hazard" can be straightforward.
"Undue hazard"
A "hazard" is identified in Part 1 of the Regulation as "a thing or condition that may expose a person to a risk of injury or occupational disease." Further, "undue" is defined by the Oxford dictionary as "unwarranted, inappropriate, excessive or disproportionate." Therefore, a thing or condition that may expose a worker to an excessive or unwarranted risk of injury or occupational disease represents an undue hazard for the purposes of section 3.12 of the Regulation.
"Reasonable cause to believe"
The use of the term "reasonable" in "reasonable cause to believe" means that the worker must assess the situation as a reasonable person, taking into account relevant and available information and exercising good faith judgment with respect to the hazard with due regard to the worker's training and experience.
Ultimately there must be an objective basis for a continued refusal for unsafe work. The goal of the process set out in sections 3.12(2) through (5) is to establish whether there is an objective, or reasonable, basis for the refusal and if so, to determine how to remedy the situation.
"Reasonable cause to believe" and the susceptible worker
Some workers may have an underlying condition which would lead them to suffer an illness or sustain an injury, even though others would not be affected in the same way. In this so-called "susceptible worker" situation, the "objective " test of whether the worker has reasonable cause to believe the work presents an undue hazard is to be applied in the context of the person's specific health condition.
WorkSafeBC prevention officers investigating work refusals under s. 3.12(5) will deal with each refusal on a case by case basis, and will undertake a full assessment of the situation in order to conclude whether the worker had reasonable cause to believe an undue hazard existed.
To uphold a work refusal, there needs to be a clear connection between the undue hazard asserted by the susceptible worker, and his or her health condition. As part of the investigation into the refusal, the employer may ask for confirming evidence of the effect of the hazard on the person's condition. While the evidence is being obtained, the worker should be removed from the condition that the worker asserts is an undue hazard.
As an example, an offensive odour is present and apparent to all the workers in an office. One of the workers refuses to continue to work, saying that he suffers from a respiratory ailment and the odour is exacerbating his condition. He reports to the supervisor that he is suffering ill health effects from the odour, including difficulty breathing. The worker is acting reasonably in refusing to continue working, and is reassigned pending the employer's investigation into the refusal. As part of the investigation into the refusal, the employer asks for documentation of the condition, and the worker provides a note from his doctor confirming that the exposure to odours can exacerbate the worker's medical condition.
https://www.worksafebc.com/-/media/WorksafeBC/OHS-Images/FlowchartG312.ashx?la=en&hash=E512E2AE1DC37534E2287C1104712FBC1560E4B4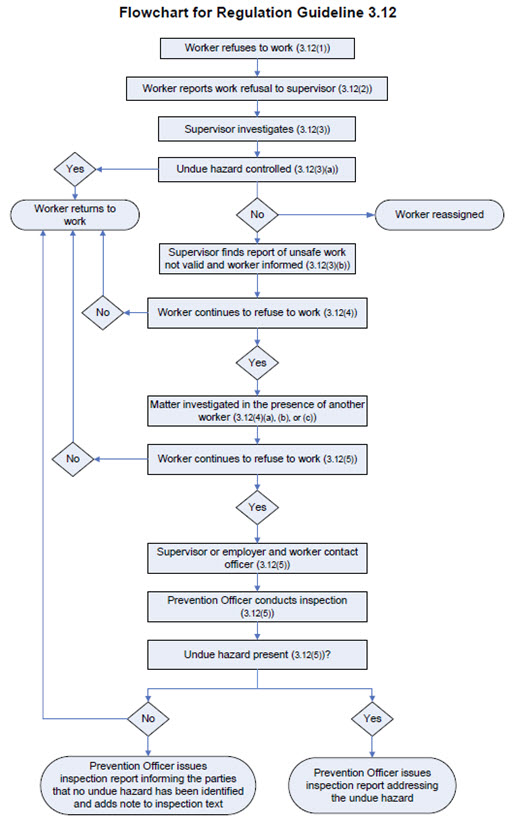 If you continue to have questions, you can contact Worksafe BC at 1 888 WORKERS (1 888 967-5377).